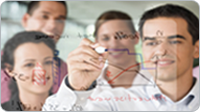 NON-EXECUTIVE MANAGEMENT
Do you need extra expertise on an ad-hoc basis to help with your project related challenges and problems??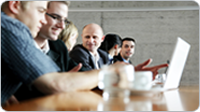 RISK MANAGEMENT HEALTH CHECK
Are you in control of your risks ... or are they controlling you? When did you last check that your project and system related risk processes are still fit for purpose?
ABOUT US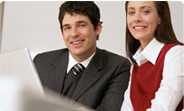 What do these world class organisations have in common?
Grant Thornton, Johnson & Johnson, Alpharma, Amersham Biosciences, Arjo Wiggins, Christofle/LBDe, WH Smith Business Supplies/Niceday, Sun Life Assurance of Canada, Dun & Bradstreet, Rank Xerox, TSB Trust Company, Hambro Life Assurance, SavaCentre, British Credit Trust… to name but a few.

They have all used our services to help bring order to challenging situations, full of complexity and ambiguity.

What we do
We are different, very different!
You see, we enjoy helping to solve complex project challenges and problems... particularly those associated with large-scale, global and regional EMEA based Compliance (such as GDPR and Brexit), Systems Integration, Enterprise Resource Planning (ERP) Implementation, Business Intelligence (BI), Merger & Acquisition (M&A), and Digital Transformation initiatives.

We use our extensive real-world experience to identify what can be improved or delivered and then, if required, work with you to implement the changes; this means you quickly get back (or stay) on track and still deliver against previously agreed or revised expectations.
For over thirty years we have been helping senior executives cope with complex organisational change, in diverse organisations right across the EMEA region... quite often as part of a regional European or global Team.
Our Senior Partner, Robert Toogood, is an information security expert, with specific expertise in areas such as cyber, digital risk, GDPR, privacy, GRC/IRM, ISO 27001, SDLC, RIM, M&A, SOX, BCP, and risk management. His real-world information security and data protection experience spans over seventeen years, based on a successful systems and project management background; this experience starts in 2002 with Johnson & Johnson and business continuity planning activities within their UK operation, and has continued on a regular basis since then including a recent focus on helping clients with their cyber security related challenges.
This depth of experience means that in conjunction with his passionate desire to get things done, Robert is able and more importantly is willing to seamlessly move between management and execution roles within an assignment, when appropriate.
Robert believes very strongly in the importance of working in partnership and not in isolation from his clients; listening to their needs and not imposing pre-conceived solutions, taking time to properly understand the context in which they operate and only then, using his experience to provide innovative solutions.
How we do it
When working with clients, we use our five-step ORDER™ approach to help them with their problems and challenges. As part of this approach, we focus on the effective use of real-life experience and international best practice, through a pragmatic and sensitive application of this knowledge aligned with the unique needs of each client.
We passionately care about our clients' problems and challenges, and work in partnership with and not in isolation from them. We don't impose pre-conceived solutions, and take time to properly understand the context in which they operate.
All of this enables us to provide a personal service that is independent, confidential and totally flexible.

How we can help
We bring order to organisational change; in particular, we love the uncertainty, complexity and ambiguity you always find in these environments ... we troubleshoot and particularly relish fixing organisational things that are broken and need mending. 
Clients have previously looked for help with:
TURNAROUND: recovering strategic initiatives failing to deliver on expectations;
ASSURANCE: reviewing effectiveness of key activities to ensure fit for purpose;
IMPLEMENTATION: organising more effectively to implement change;
SUPPORT: achieving full potential during period of significant change or challenge;
RESEARCH: finding out more about some new or existing area of interest.
We enjoy our work and hope you will too!